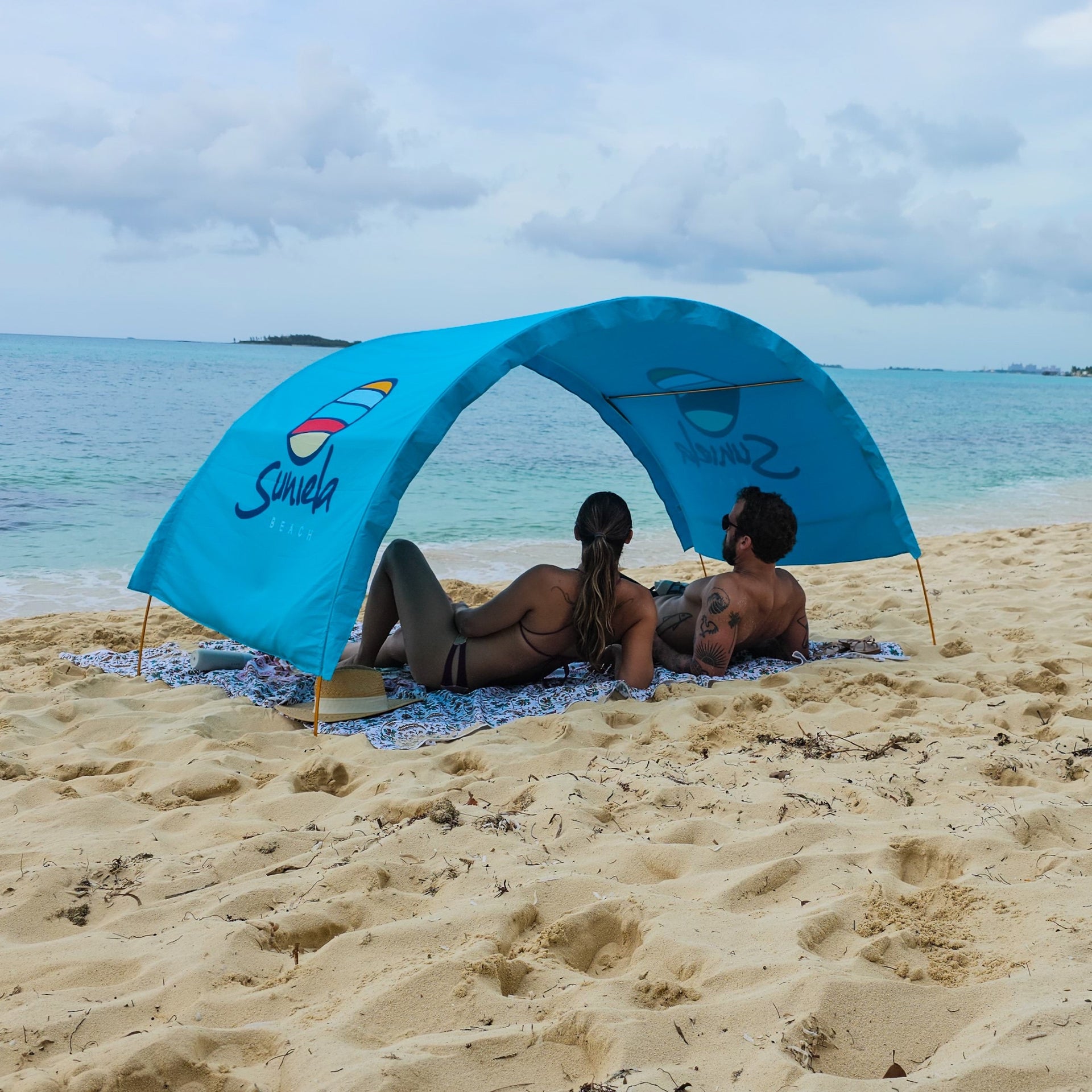 Deluxe Shade Cabana
Regular price
Sale price
$198.00 USD
/
85 in stock
---
The Ultimate Portable Shade
No more chasing beach umbrellas!
STRONG & DURABLE
Aluminum Poles
Our shade cabanas have strong aluminum poles that won't snap in high winds or rust from salty ocean air. 
Complete with engraved pole depth markings to help with set-up!
Don't block the view!
Our unique arched shade tents provide wind resistance & ventilation, without blocking the view for those around you.  No tie lines or sand bags needed!  Simply push each pole into the ground. 


Fully adjustable shade
Slide your canopy to either side for high or low sun - and to block the wind.


Best travel accessory
At just 4 lbs our portable sunshades won't weigh you down!  Packs into your carry-on suitcase for that tropical holiday.


Pockets!
Handy storage pockets keep things tidy & sand-free. *Add heavy items like water bottles for extra weight on windy days.
For the beach or the park
Firm ground?  No problem!  We include a tent stake to pre-punch holes in firm ground, like grass at the park.  Our sun shades create a safe space in the backyard over the kid's sandbox or wading pool too!
Get ready for fun in the sun!
Stay safe & cool
Our innovative cotton canopies provide UPF 50+ protection - naturally, without any chemical sprays messing with your vibe.
We source Better Cotton
Our new collection isn't just good for you, it's a superhero for the planet too! The Better Cotton Initiative exists to make global cotton production better for the people who produce it, better for the environment it grows in and better for the sector's future.

Eco-friendly dyes
When it comes to dyes and printing, we've gone with eco-friendly dyes and a printing method that produces zero waste water. Because hey, saving the world while looking fabulous on the beach is what Suniela is all about!🌍❤️
DESIGNED WITH LOVE
We believe in the power of art to inspire and delight. That's why we've collaborated with talented graphic artists from around the world to create eye-catching prints that will turn heads wherever you set up your cabana.
Engraved Poles
No more guessing the right depth to insert your cabana poles.! We've upgraded our design to include engraved depth markings.
Ensuring your poles are inserted into the ground a minimum of 7" / 18cm is important for maximum stability in windy weather.
Dirty Cabana?
Our cotton sun canopies are machine washable!  Gentle cycle, cool water, hang to dry. 
*Never put your canopy in the dryer, it will shrink and the poles will no longer fit*


We hear you!
You're tired of juggling a bulky parasol with the rest of the beach gear.. and those pop-up tents are never as easy as they say! 
  With Suniela shade, it's easy to spend more time outside - by the ocean - in the backyard - or at the park. 


Super Portable
Compact design packs neatly into your suitcase for that tropical vacation.
No more paying to sit in the shade or getting up at 5am to reserve your spot!
Suniela shade cabanas are a must-have travel accessory.


Say Hello to Your Coolest Sun Buddy!
Complete with large mesh pockets, aluminum pole system, and an adjustable sliding canopy for shade all day, our arched beach tents are the top choice for your outdoor adventures.
Our 100% cotton canopies offer UPF 50+ protection, naturally, without any chemical sprays messing with your vibe. (Did you know that synthetic shade canopies are treated with harsh, toxic chemicals in order to achieve a UV rating? We believe that natural shade is the way to go!)
RATED UPF 50+ *AATCC Standards
Our canopies proudly flaunt UPF ratings ranging from UPF 100 to an unbelievable 244! Talk about sun protection on steroids! 💪😎
Suniela Beach cabanas aren't just good for you, they're a superhero for the planet too! We've got your back with BCI Cotton, which means it's better for the hardworking folks in the fields and kinder to Mother Earth. 
And when it comes to dyes and printing, we've gone with eco-friendly dyes, and a printing method that produces zero waste-water.
Because hey, protecting our world while looking fabulous (& staying sun safe) on the beach is what Suniela is all about! 🌍❤️
Any duties &/or taxes charged by your country's customs department are the responsibility of the customer.  If tax/VAT are charged in physical stores of your home country, then you will likely have to pay tax/VAT for your online purchases when they arrive to your country - before delivery.  This is beyond our control and varies globally.  
Canada: Sales tax is charged automatically at checkout, no further fees will be incurred
USA: No duties or taxes will be incurred on order values under $800 USD
Please check with your government website regarding tax/duties for online purchases. 
*Any items returned to Suniela Beach due to nonpayment of duties and/or taxes will not be entitled to a refund.  
Most orders are processed within 24 hours, up to 48 hours during peak times.
We ship everywhere!  
Standard Shipping
Within Canada & USA - Spend $100+ USD  for free shipping*: 2-9 business days  
 *excluding Hawaii, Alaska & Puerto Rico - calculated at checkout
Rest of World: Shipping options shown at checkout
Rates & times calculated at checkout.  We cannot ship to PO Boxes outside of Canada.
Please contact us to arrange urgent shipping or for unique needs - we'll always find a solution!