Natural Sun Protection (no chemicals added!)
100% Cotton canopy rated UPF 50+
The best beach tent you'll ever buy
Extra! Extra!
FEATURED IN HELLO! MAGAZINE
"We tried out this amazing tent ourselves - along with one of the brand's Giant Beach Mats and we were absolutely blown away.
Not only is it absolutely drop-dead gorgeous, but it's ridiculously easy to put up and down, no messing about with sandbags required. It literally takes a minute - or less - both ways, and it felt super secure, even on a windy day.
...The three-metre square coverage you get is impressive - there was plenty of room to spare for us as a family of four with two children, and the handy side pockets are a godsend. And, Its unique circular shape lets air circulate and doesn't block the view for others behind you on the beach."
Read the full article
Don't Block the view!
Our unique arched shade tents provide wind resistance & ventilation, without blocking the view for those around you.  No tie lines or sand bags needed!  Simply push each pole into the ground.
Fits in a suitcase
Suniela beach tents pack up small & light for that tropical vacation. Weighs under 4 lbs & fits in your carry-on suitcase, our sun shelters are a must-have travel accessory!
A place for everything!
Handy storage pockets keep things tidy & sand-free. **Add heavy items like water bottles for extra weight on windy days
Aircraft Grade Aluminum Poles
Strong, aluminum poles that won't splinter or break in high winds.
With engraved pole depth markers to make set-up even easier.
Not just for the beach!
In the backyard or at the park, Suniela has you covered.
The perfect picnic shade!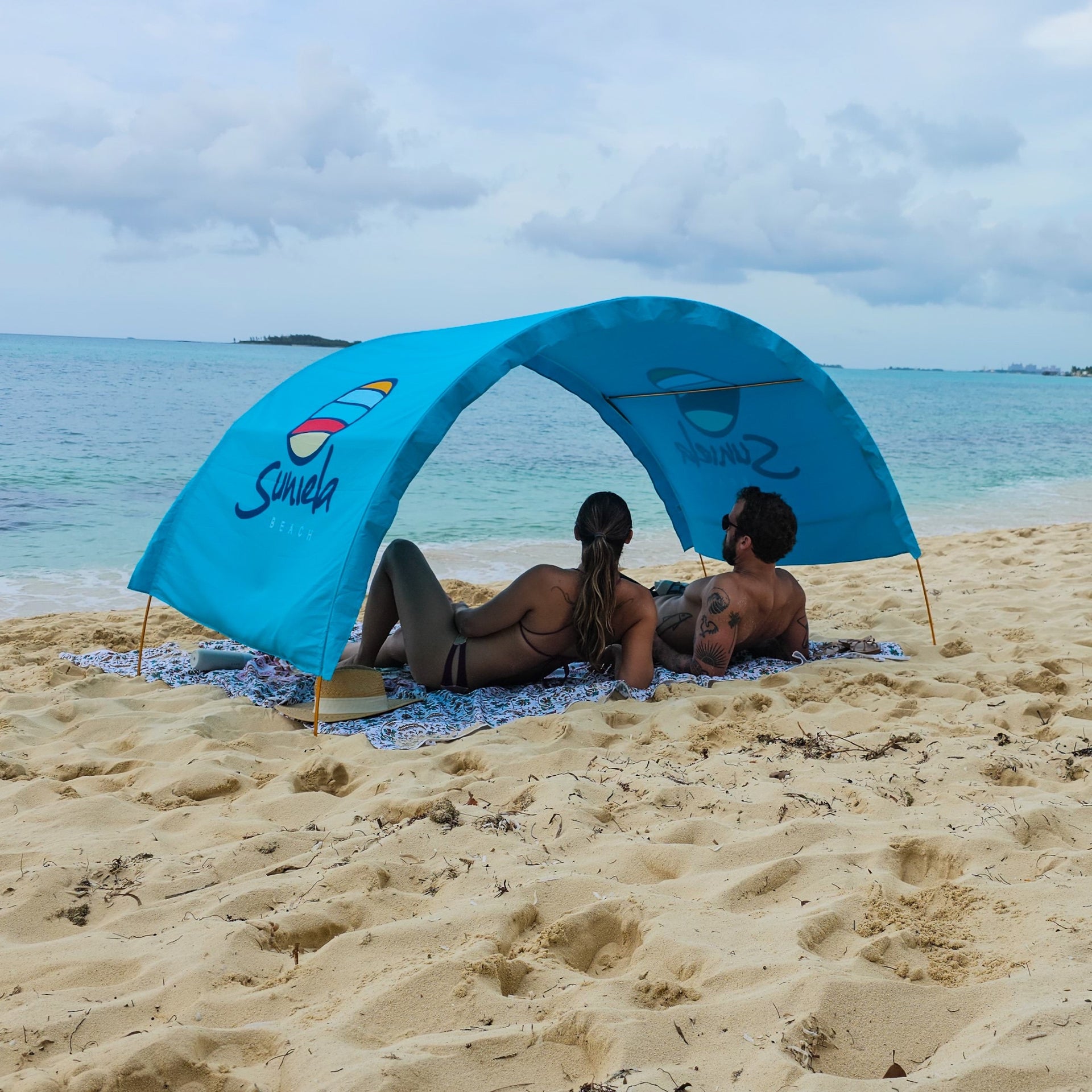 Deluxe Shade Cabana
Regular price
Sale price
$198.00 USD
/
85 in stock
---
"We love our Suniela, a must have for every beach trip! Very easy setup and rolls up nice and compact to fit under the stroller. "
Tyler
"Our little ones adore our sunshade and we love the sun protection it provides. So easy to set up and take down and never gets overheated like other sun shades do."
Jennifer Lynn
"Absolutely love my Suniela. We take it south when we travel... And use on the grass at gatherings. It sticks right into the ground for shade. So easy to set up and take down."
Denise
"This is the best - coolest - sun shade out there... What a great product!!! So compact, so lightweight, and literally the best money I've ever spent."
Stephanie
"This year I used my sunshade at least three dozen times. They just take a few minutes to set up and never fail to impress other beach goers.
I'm off to Mexico this winter and can pack in my suitcase for my days on the beach. This is one purchase I have never regretted!"
Jackie
Versatile
For the Park too!
Watch the kids soccer game, have a family picnic, or relax with your pup in cool shade.
Suniela can be used anywhere there's sand or turf!
shop now
Born on Canada's east coast
Designed by two sisters for their kids - (We're the kids!)
BEAUTIFUL
Yoga Mat Bags
Transport your mat in style with our artisan-made cotton carry bags.
Available in a variety of hand-dyed prints & colours.
Shop yoga mat bags
✨High Quality✨Sustainable Materials
Frequently Asked Questions
What makes a good beach tent?
Compact design with easy set-up, wind resistance and ventilation are key. Our unique open design doesn't block the view for those around you.
Pockets are a handy feature to keep your stuff out of the sand. Adjustable shade for high or low sun is important for all day comfort.
Tie lines & oversized footprints can be hazardous for people walking by, it's important not to take up more space than necessary! Suniela beach cabanas are the only portable sunshades to offer all of these features without tie lines or sand bags needed 🌞
Do beach tents get hot?
Yes! If a sun shelter is made with nylon and has a closed back - they can become really hot & uncomfortable. Beware of mini sized tents designed for babies as they can turn into little ovens on a hot day!
Suniela portable beach cabanas have a unique open-sided design for maximum airflow & comfort. Our natural cotton canopies give a large footprint of cool shade, any time of day.
What are the best beach shelters?
Until now, there wasn't a perfect portable beach shade - one made with high quality materials, with a stylish design, that doesn't blow away in high winds.
Parasols can be dangerous & have caused injury (even death!) on windy days. "Beach tents" really aren't the best portable shade options. They're usually made of cheap materials that break easily in the wind, and their fabrics are sprayed with chemical UV protectants. These are toxic additives which can off-gas to those sitting near the fabric.
At Suniela Beach we use natural shade canopies made with 100% cotton fabric. Not only do they provide UPF 30 protection, they're also machine washable & come in a variety of hand dyed prints & colours.
How do I keep my beach tent from blowing away?
It's important to choose a shade option that anchors down into the sand, like our arched sun cabanas. Sand bags alone don't cut it for wind resistance!
Our unique arched & open design allows the wind to pass through - without creating a parachute affect - often seen with dangerous beach umbrellas. The four anchor points provide added stability, and our aluminum tent poles are extremely strong & durable - they won't shatter, or flatten in strong winds like traditional beach tents.
Simply push your Suniela poles at least 7"/15cm into the ground and your cabana will stay up in high winds. (Crazy wind? Add heavier items like water bottles to the pockets for extra assurance)
What colour tent is best for sun?
While colour does play a factor in sun protection, what's more important is the fabric itself. Our 100% cotton canopies have a unique weave that naturally blocks out the sun's rays with a UPF rating of 30.
The difference of protection between colours is minimal, but generally speaking darker colours block more of the sun's rays.
Suniela shade cabanas come in a variety of prints & colours so you can express yourself while staying cool.